The perfect cake stand can make a huge difference when it comes to presenting your cakes. Whether you are looking for something more sophisticated for a special occasion or simply want an attractive way to display your everyday fake cakes and bakes, there is definitely a cake stand out there that will suit your needs. In this blog post, we will take a look at some of the different types of cake stands available on the market and help you choose the one that is right for you.
Different Types of Cake Stands Available 
There are many factors to consider when choosing the perfect cake stand. The first is the material. Cake stands come in a variety of materials, including glass, metal, ceramic, and even plastic. Each has its own benefits and drawbacks that you may need to consider before making your final decision. For example, glass cake stands are usually quite sturdy and easy to clean, but they can be more expensive than some other options. Metal cake stands are also quite durable but can be difficult to clean if they're not coated with a protective, food safe layer.
What to consider when choosing a cake stand
There are a few things to take into consideration when purchasing a cake stand. The first is the size of the stand. You want to make sure that it's big enough to fit your cake, but not too big that it looks disproportionate. 
A cake stand should, at the minimum, be as big as the bottom tier of your cake. Slightly larger than the bottom tier is also appropriate and even encouraged if you're using a dome (for a shorter cake style). Never use a cake plate that is smaller than the diameter of the bottom tier of your cake.
Advantages and disadvantages of different types of cake stands
When displaying your cake creation, there are three basic options to consider when you really want your cake to steal the show. These options are classic, modern, and elegant.
For a classic look, glass stands are a go to. Glass cake stands are home staples because they have a classic and elegant appeal and they're also easy to clean.
If you're not into the clear look of glass, try something ceramic. It's also an elegant choice but is also versatile enough to use for a casual setting.
The Burano Cake Stand (above) is an elegant touch during any season, and it offers a touch of class to the casual setting as well. The down side about using glass or ceramic stands is while these stands will help protect your cake from moisture, if you're transporting the cake to a public event, both glass and ceramic can be a bit more difficult to transport. It's heavy and both are easier to crack or break, which could also cause an injury to whomever is carrying it.
If you're looking for the classic look of glass that's easy to transport, it may be better to go with something made from acrylic. Acrylic stands are lightweight, affordable, and easy to store. They also can be purchased in clear to give the elegance of glass.
For a more modern take, metal stands are a very attractive option, not to mention, a less expensive choice compared to glass stands. They are a bit lighter than glass, making them easier to transport. Metal stands also make an attractive and versatile platform to showcase your beautiful cake. Metal stands can present a modern, vintage, rustic, or even eclectic cake. With more size options to choose from, they're also a great choice when you're considering layering your look. This beautiful metal stand is great for farmhouse styles as well as classic styles.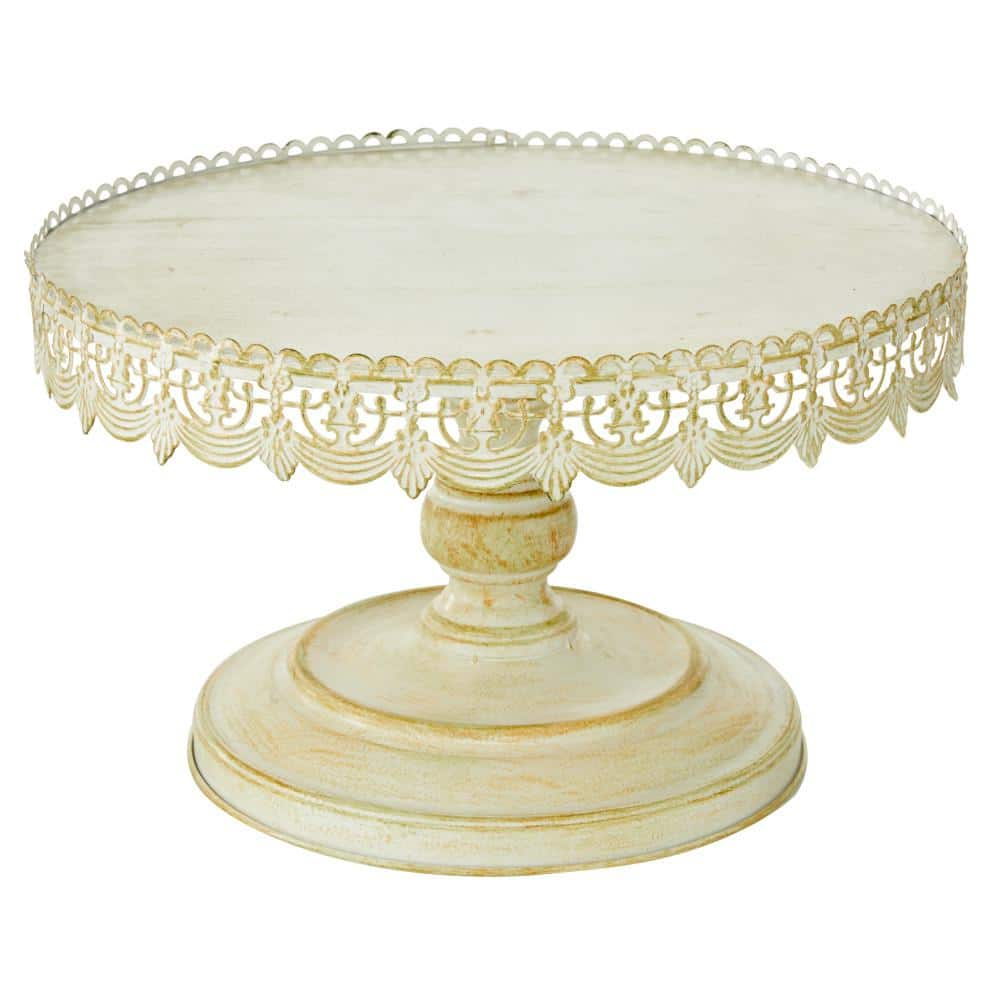 To Sum It Up
There are many different types of cakes to choose from depending upon the presentation. Glass stands are clear, so you can easily see your cake. They are also durable and easy to clean and ship. However, they can be heavy, break easily, and are usually the priciest option. They can also be difficult to find in a variety of sizes, so you might have to get creative if you have a particularly high or low cake.