Everyone loves the smell freshly baked goods can bring into their home, but who has time to actually bake every day to bring that sense of warmth? With bakery style pillar candles, you don't have to bake, but can have that homey feeling by simply lighting a match.
In the world of pillar candles, bakery candles are just one variety. A general rule of thumb is that pillar candles are candles that can stand on their own, without the aid of an additional accessory. They don't need jars or candle holders to be displayed, and can burn without sitting in a container.
As far as shape and size, the options are as limitless as your imagination. Maybe you prefer the traditional column shaped candle, but maybe you want to bring a fresh look to your home with a bakery pillar candle. Pillar candles can be in a star, square, or even triangle shape. That's the great thing about not needing a container: your shape requirements are no longer limited. Decorate for the fourth of July with red, white and blue star shaped pillar candles. Or, you could create a nice display with square pillars of various heights. A pillar candle in the shape of your choice can enhance all mantles, bookshelves, and even countertops.  In addition to geometric shapes, pillar candles can come in what are called bakery style candles.
A bakery style pillar candle can come in the shape of a stack of cookies, or a three tiered cake. Maybe you like the look and smell of a stack of pancakes (I know I do!) No matter your preference for baked goods, bakery candles can provide a replica.
When decorating with pillar candles it is important to remember that because they don't require an additional accessory, these candles have a tendency to melt into themselves, leaving you with a hard lump of wax that's easy to dispose of. Be sure to set these candles on surfaces that you don't mind being covered with melted wax. If you choose to decorate with bakery style candles, setting them on a decorative plate could be one solution to this dilemma. Set out a plate of freshly baked "cookies" and you will be sure to have guests sniffing and inquiring about the delicious aroma.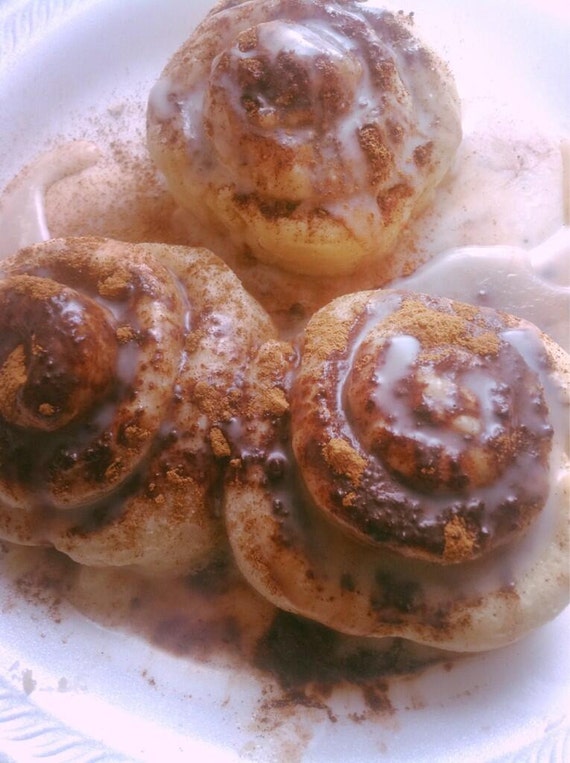 If you have a preference for which types of wax you like to burn, pillar candles can accommodate. They can be made out of Soy wax, beeswax, or paraffin wax, or any combination of the three. As long as the wax sets up well, and can stand on its own, the candle can be made out of it. Gel wax is the only wax that may be too soft to become a pillar candle. Gel wax requires an additional jar or container in order to set up and burn correctly. While pillar candles are often made with less oil, there is no reason you can't get any fragrance you are hoping for. Pillar candles come in all the same scents as other candles.
So what part of your home could you decorate with bakery style pillar candles? Take your pick. The kitchen may be the most obvious choice, but just because the candles resemble food, doesn't mean they have to be confined to rooms designed for food. Tempt your guests in their room with a plated cake candle. Greet your family at the door with the smell of fresh baked cookies, while the candle burns in the entryway. Even the bathroom could be decorated with tasty looking treat candles, all while helping eliminate other less pleasant smells. No matter the room, bakery candle designs can help. 
Burning candles for their smell is not the only way they can be used. If you choose not to burn these candles, their fun shapes allow them to be decorative for much longer than actual baked goods. You don't run the risk of food spoiling, but you can still display a plate of tasty treats. Maybe you have a china hutch that could use a little sprucing up. Place a bakery candle on one of Aunt Flo's antique china plates, and display the set as it was meant to be displayed without running the risk of someone dropping a plate at dinner. Decorate a formal sitting room with teatime treats and bring a new sense of hominess to the otherwise unused room. The great thing about pillar candles is that they don't have to be burning to bring décor together. They can be useful just in their display, without the help of aromas.
A benefits for pillar candles vs. jar candles is the lack of a jar. There is not reason to fret dropping a pillar candle, because there is no glass to break. Also, jar candles have a tendency to collect soot around the upper rim. While they may burn into themselves, pillars won't look dirty, or unattractive because of soot. It helps that there isn't a jar hindering the display because you can get creative in the materials you decide to mix with the candles.
Some people prefer the look of melted wax, to bring a sense of antiquity to the room. Partially melted pillar candles can still be decorative. Wax drippings don't have to be ugly. You could decorate any number of antique home goods with partially melted pillar candles to bring authenticity to your display.
When shopping for pillar style candles, don't be afraid to change it up. Rotate your displayed candles, and bring a new freshness each month, or even a week if you wanted. Craving cookies but don't want to ruin your new year's resolutions? Light up a cookie style pillar candle for the smell and illusion of cookies to help satisfy your cravings.
Pillar candles offer a wide range of styles and smells no matter your budget, or style preference.